The Most Popular Bridesmaid Dress Colors for Every Season
The most daunting part of wedding planning isn't finding a venue or booking a caterer. It's taking your girls to find the perfect bridesmaid dress for the occasion. 
Between the different fabrics, styles, and colors, there's so much that you have to consider. Did you know that certain shades are more appropriate for some seasons than others?
Fall colors should match the changing leaves. Winter weddings call for elegant reds and greens. 
Summer is the perfect opportunity to celebrate new life with your dress colors. In the Spring, it's time to break out the pastels. 
Want to learn more about your options? Check out this quick guide to popular dress colors. 
Fall Wedding 
If you're going to have an outdoor ceremony, fall is the perfect time of year to get married. The cool temperatures will prevent your guests from sweating in their formal wear, and your bridesmaids won't have to worry about runny makeup. 
The foods associated with the season will be a huge hit at your reception, and the changing leaves can make a gorgeous backdrop for photos if you choose the right bridesmaid dress colors for your girls. 
Reds and Oranges 
Rich reds and oranges will mimic the color of the changing leaves. They'll also fill your wedding with a sense of warmth. 
Garnet is a popular choice, despite being more of a winter wedding shade. It goes well with most skin tones. If it feels too much like Christmas, you can ask your girls to wear some cool-colored accessories with it. 
Have your bridesmaids all arrive in the same color or mix things up. Allowing your girls to wear different shades of orange and red will do wonders to capture the fall mood.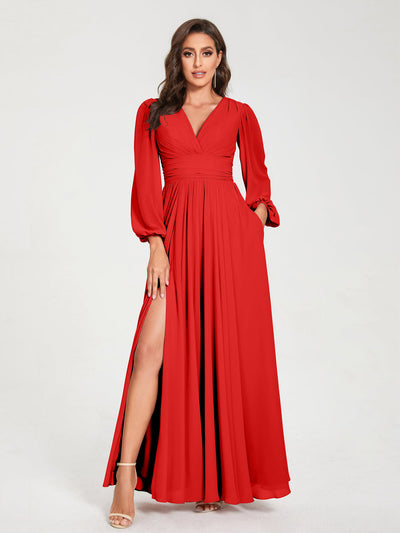 Steel Blue 
Blue is more of a winter color, but if your wedding takes place in the early fall before the leaves have the chance to change, it's not a bad choice. 
If you do the bridesmaid dresses satin fabric and incorporate more fall colors like beige and burgundy into your theme, it will allow the steel blue to pop.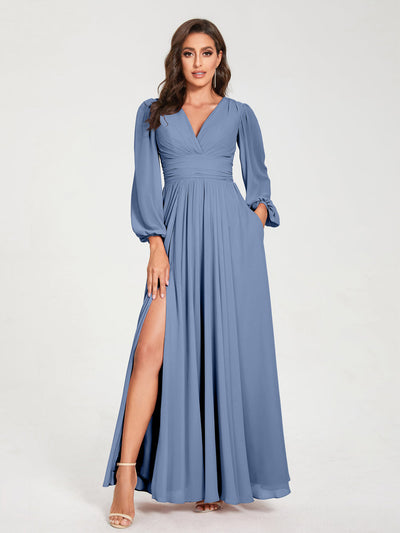 Green 
Since fall is the perfect season for outdoor weddings, it's not a bad idea to fully embrace the nature theme.Sage bridesmaid dresses can be the perfect complement to your venue's foliage. 
If you want your wedding to capture more of the fall mood, you can balance the green dresses with orange flowers and decor. 
Dark emerald greens are more of a winter wedding color, but you can make it work for your fall celebration with brightly colored accessories.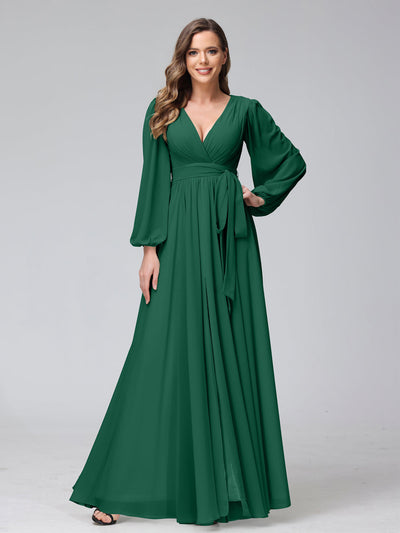 Blush
If your wedding includes a lot of red florals, burnt orange bridesmaid dresses will pair well with them. This color will also play nicely with the orange leaves outside. 
Blush is traditionally a spring color, but you can make it your own with velvet fabric dresses and sage decor. 
Winter Wedding
The main reason to have a winter wedding (besides the gorgeous snowy backdrops) is the money savings. Since it's the off-season, you'll get the best dates and rates. 
If you want to make sure you're able to secure your dream venue, winter is going to be your best bet. All the seasonal dress color options are nice, too. 
Black
Many brides shy away from black because it feels like a funeral color, but it can be a good wedding shade as well.
If it happens to snow on your big day, it will make the bridesmaid dresses black pop. Black is also an elegant shade that's flattering on almost everyone.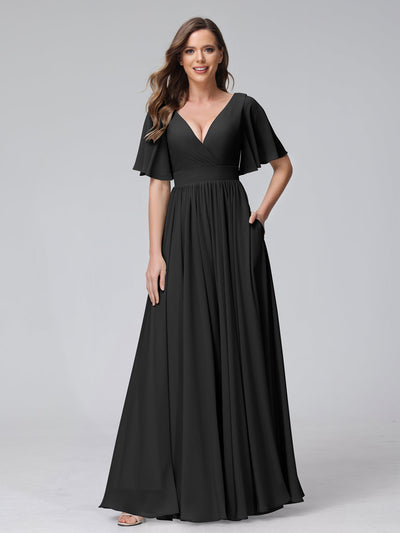 Navy Blue
If you don't like the idea of having your girls wear black dresses, navy blue is a good second choice. It will also look gorgeous in snowy wedding pictures. 
It's a sophisticated color that drips with class no matter the style of dress you choose.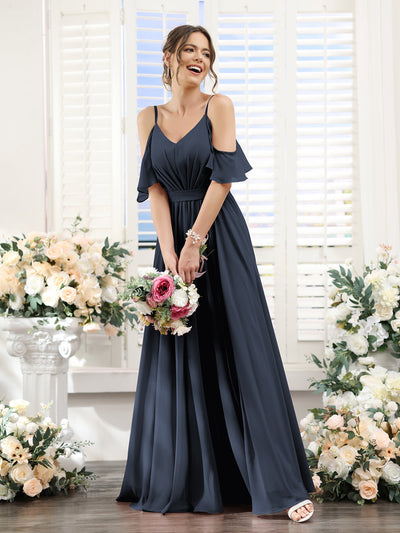 Red
Red bridesmaid dresses will turn your winter wedding into a festive event. It will pop when paired with a winter landscape. If you want to go all in on having a Christmas-themed wedding, pair the dresses with red table flowers. 
Besides being festive, burgundy and garnet are elegant colors that can match any skin tone. 
Sage 
As you've probably noticed, darker shades are used more often than not when it comes to winter weddings. That doesn't mean you have to stay away from lighter tones. 
Sage will bring out the best in your snowy wedding pictures. It pairs well with roses, which are popular winter wedding flowers.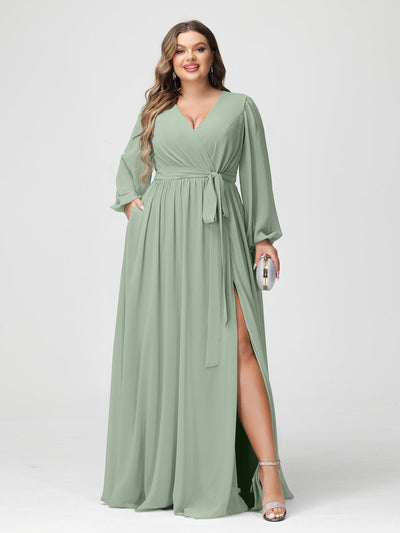 Spring Wedding
Spring has the perfect weather to offer for planning outdoor weddings. Like the fall, it's not too hot but not too cold either. 
You can also say "I do" to the sounds of birds chirping and the smell of flowers. Just make sure you plan to change your outdoor wedding to an indoor one. Spring can bring unexpected showers.
Most bridesmaid dress colors for spring involve pastels. Darker colors aren't a bad choice either. They'll keep your bridesmaids warm if your wedding takes place in the crisp early spring. 
Slate Blue 
Light blue dresses provide a timeless look. If your wedding is taking place in early spring, it's a good color for transitioning out of winter. 
Slate blue pairs well with solid blue and white wedding decor. White prints also look outstanding on dusty blue bridesmaid dresses. 
Blush 
Blush is a classic when it comes to spring weddings. The light pink works well with the changing fauna. 
You'll want to match this color with lush green wedding accents and decor to get the full look. 
Plum
Dark plum is a great dark color for winter weddings. It's unexpectedly a nice shade for spring as well, though. 
It works for almost any skin tone and plays nice with a lot of accent colors. You can mix it with most traditional spring colors such as yellow, green, and light purple.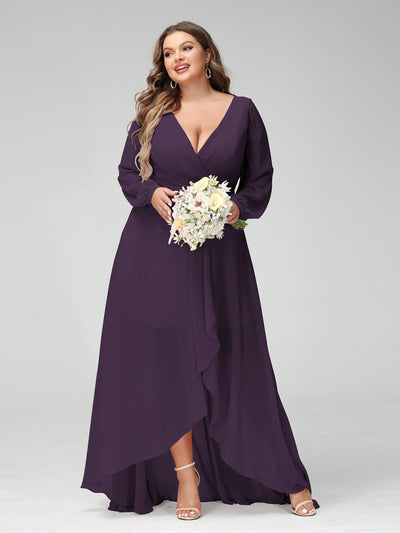 Champagne
It's become somewhat trendy to choose a bridesmaid dress that's almost the same shade as your wedding dress. If you go with a traditional white dress, champagne is going to be the closest color to match it. 
The light pink aesthetic of this shade makes it fitting for spring. It's a sophisticated option that will blend with most of your wedding decor.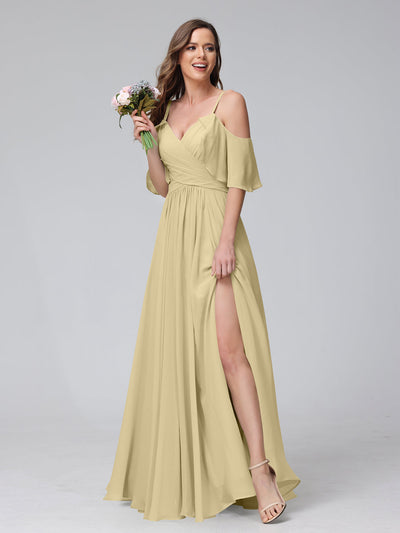 Summer Wedding 
Summer is when everyone's children are out of school. That frees up more of your guests to attend your wedding. You'll also have more wedding flowers and centerpieces to choose from. 
The weather will stay warm well into the night, so your guests can keep on dancing at your reception without getting chilly. Outdoor weddings can get a bit hot, but as long as you choose the right bridesmaid dress colors and fabrics, your girls should stay nice and comfortable. 
Burnt Orange 
Match the color of the bright summer sun with burnt orange. It's an earthy tone that fits well with the season. It's also the perfect match for rustic outdoor wedding venues. 
As far as decor goes, pair burnt orange with teal table decor and floral arrangements.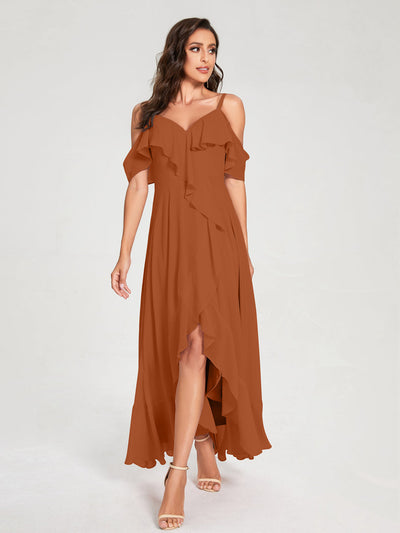 Champagne 
Again, it's trendy to match the color of your dress with that of your bridesmaids. Champagne is an amazing color for spring, and it works for summer as well. 
It's an elegant shade that goes with most summer flowers such as baby's breath, roses, and peonies. 
Emerald Green
Summer is seen as the season of life. Trees are returning to their regular green color, and plants are in full bloom. 
One of the best shades to meet this theme is emerald green. It's a color that works well for all skin tones. 
You can create a nice contrast by using sage wedding decor with emerald bridesmaid dresses. This color looks great with white floral arrangements as well.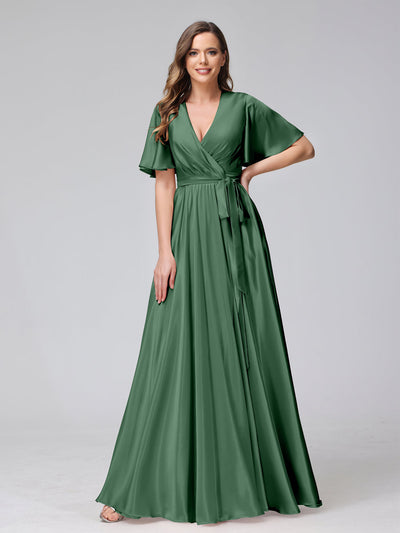 Burgundy
Burgundy is used more often in winter than summer, but it's still a beautiful option. It mixes well with other summer shades like blush. 
It also works with neutral tones. Putting your groomsmen in cream or beige suits will look striking when paired with burgundy dresses.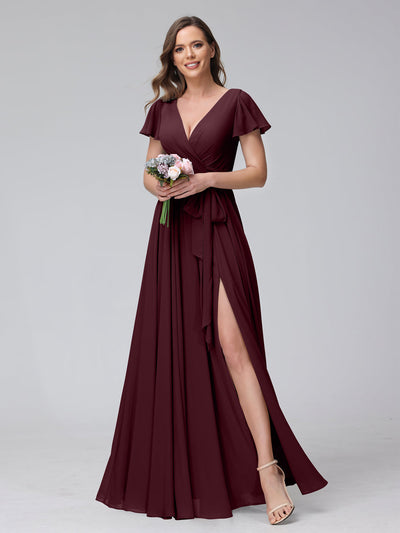 Choose the Right Bridesmaid Dress for Any Season
As you can see, no matter what season you set your wedding date, there's a bridesmaid dress color that can match it. Celebrate new life in the summer with green and orange. 
Keep things classy in the winter with black dresses. Bring out the best in the changing leaves in the fall with reds, and break out the pastels in the spring!
We have bridesmaid dresses in all styles and colors! Go here to browse through our selections. 
---